a-solutions support offerings
a-solutions has delivery centers in Europe, the Middle East and Africa, with more than 500-man years of experience. We are able to extend global support across time zones in the following languages: English, German, French, Danish, Macedonian, Arabic, Russian, Tagalog Urdu, Punjabiand Hindi.Our aim is to solve support cases quickly and professionally.
Our Operational Support includes ongoing Issue resolution based on SLA which will include some or all of the following:
1. Hot fix installations (on older versions of Dynamics)
2. SLA reporting
3. Data correction
4. Introduction of best practices / governance
5. Definition of coding standards as per Microsoft Best Practices
6. Change control
7. System Optimization to improve response times
8. Code optimization to improve response times
9. Weekly / Monthly Backup
10. User provisioning / De-provisioning
11. Application Object services (AOS) administration
These services are as part of the SLA and can be done off-site or on-site.
a-solutions has an effective support system in place. We provide customers with user access to the system where they can raise the support issues that they face. We have a dedicated team around the support and when the customer responsible in the team receive an alert, the task will be assigned to a functional or technical consultant, to resolve the issue which is dealt with either on the phone by email or on-site.
Our Support and Maintenance services covers: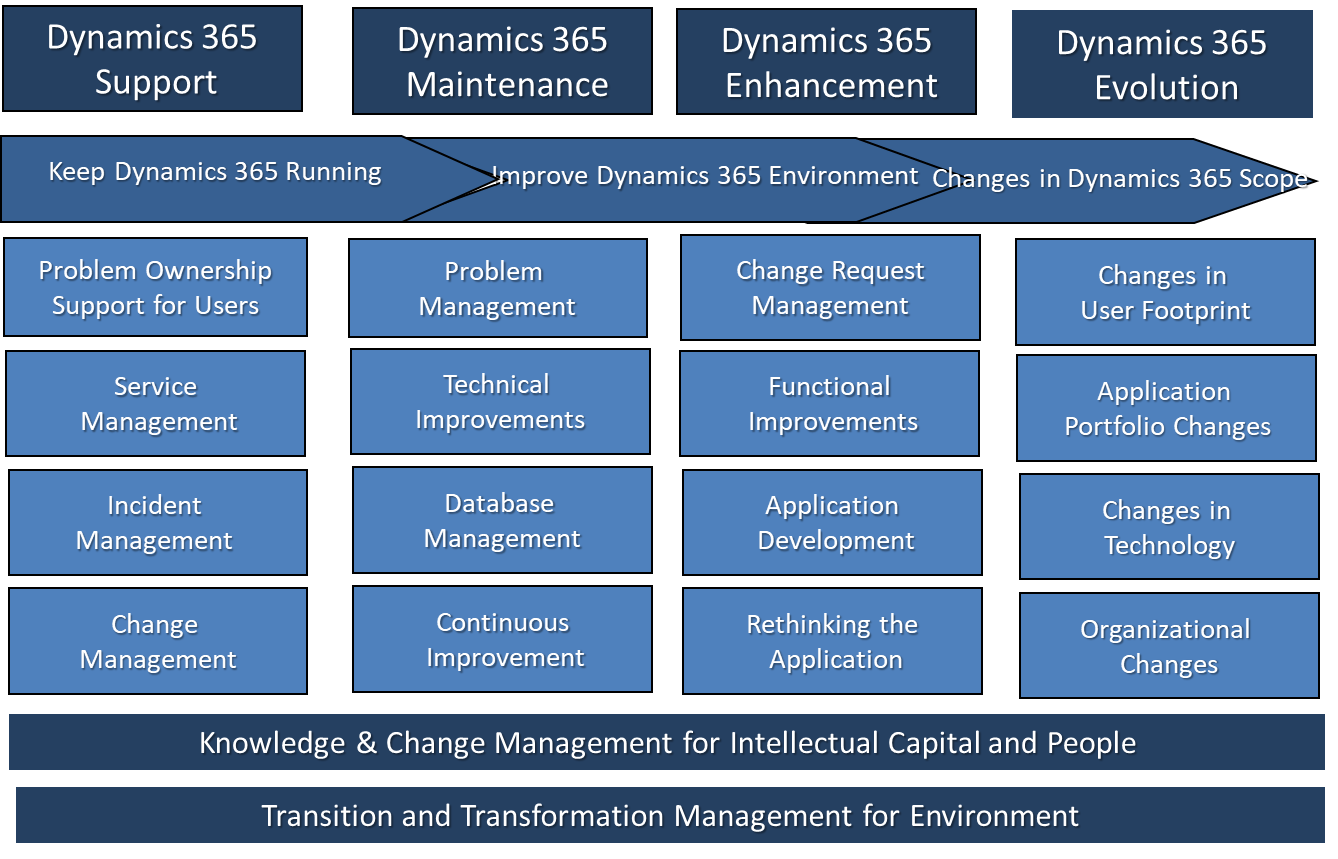 In a-solutions we operate with various support models, which are all anchored in our dedicated support organization:
1) Fully remote support, Bronze package
2) Partly remote partly on-site support, Silver package
3) Fully on-site support, Gold package
The 3 models can all be linked to a different set of SLA's and will be priced accordingly.
If you are a customer already running Microsoft Dynamics AX or Dynamics 365 and looking for additional support, please contact us. We can offer details in all areas which will suit your requirements. Then detail our offerings, which for sure will fit what you are looking for.